Life
Born on March 30, 1995, Simone Ashley is a child to first-generation Indian parents, Latha and Gunasekharan, Ashley is from Camberley, Surrey and has an older brother. Ashley has spoken about how despite growing up in a household of academics, she was always drawn more towards the creative fields. "I was the only non-academic in my family," Simone told Vogue. "Music, film, photography and art were my fortes." But she also found a love for entertainment at home. Ashley grew up singing classical music and opera and playing piano, but because of her father she was also really into Fleetwood Mac and rock n roll!
I grew up listening to a lot of rock n roll, that's due to my father. Fleetwood Mac has always been my number one. The Doors, The Rolling Stones, Steely Dan. My Mother would always play Phil Collins too. Even though I grew up in a very conservative and quiet household, music was always playing.
Simone Ashley attended the same theater school as Kate Winslet. An old Facebook post from Redroofs School for the Performing Arts revealed that Simone Ashley used to attend. She attended the school from 2011 to 2013. Redroofs School for the Performing Arts is located in Maidenhead, England, and is open to children ages 10 to 18. The school has a lot of successful alumni, but the most recognizable name associated with the school may be Kate Winslet. The Redroofs official site reveals that Winslet attended the school from ages 11 to 17. Other Redroofs alumni include Jo Froggatt, Lucy Benjamin, and Kris Marshall.According to Redroofs' Facebook post, Simone Ashley joined the school for her 6th form only and gained a three-year Musical Theatre at Arts Education honors. While attending school, she also performed in theater productions of Romeo & Juliet. She went on to train in acting at Arts Educational School in London.
About Bridgerton
To appear in a series like Bridgerton, you have to at least believe in love, or just be very good at pretending to believe in love. Simone Ashley claims to be just as hopelessly romantic as the people who adore the romance on Bridgerton. When talking to The Crazy Mind, Ashley revealed that one of the things that made auditioning for her big debutrole Sex Education so appealing was the relationships. She shared that she's a romantic and "fell in love with the heartwarming relationships and encounters in the script." She also stated that the brilliant writing and the fresh approach to high school life were also what drew her to the series.
Having dark-skinned Asian women represented in the media is something Simone Ashley is very passionate about. In her interview, she spoke about colorism and how it impacts Black dark-skinned girls and Asian women. She spoke of being proud to have her Sex Education character as a popular girl because it helps show other girls who look like her that they can embrace their imperfections and shine just as bright as anyone, and not have to live up to any beauty standards.
She also shared this quote with Veylex about colorism:
Yes, colourism is an ongoing issue. As is being typecast, being looked over because of the colour of your skin, losing roles to girls that are more 'relatable' to target audiences and markets. But if I surrender to all of that, where would I be going? No where! Fuck that. "I really believe in myself and in other dark-skinned women, especially South Asian women! We are smart, we are talented and we all have something special to offer as artists!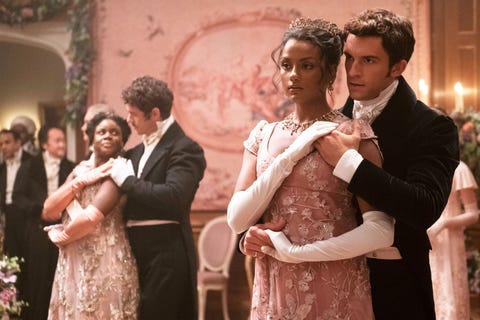 "Season one came out on Christmas day in 2020, and they were already casting for season two immediately. I got a few messages to put myself on tape and then, as the days went on, I met with Jonathan Bailey and we had our chemistry read. I later got a call saying that I got the role," she told Vogue.
"Welcome to #Bridgerton, @simoneasshley! I couldn't dream of a more perfect Kate. I mean, just LOOK at her expression in that first photo!"

Julia Quinn on Insta
Filmography
| | | |
| --- | --- | --- |
| Year: | Title: | Role: |
| 2016 | Wolfblood | Zuhra |
| 2017 | Broadchurch | Dana |
| 2017 | Strike | Alicia |
| 2018 | Boogie Man | Aarti |
| 2018 | Kill Ben Lyk | Girl Ben Lyk |
| 2018 | Sparrow | Taylor |
| 2019-2021 | Sex Education | Olivia |
| 2020 | The Sister | Elise |
| 2022 | Bridgerton | Kate Sharma |